Flight Crew Recognition Program
Advancing your career has never been easier


MAKE THE CHANGE, MINUS THE EFFORT
Are you looking for the next challenge in your career? Is it time to plan your future, is it time for management qualifications? Whatever your reasons, whatever your situation, we can help you get the qualification you need to secure your ideal management role – in any industry.
Without studying.  Without exams.  Without difficulty.

RTO 41195
The qualification you need.
The ease you deserve.
You've already invested so much time and money into your piloting qualifications. And you've worked hard every day since – gaining valuable operational, training and leadership skills along the way.
But to be appointed as a Base Manager, Fleet Manager, Training Manager or Director of Operations or any other management role, HR managers expect more.
They expect a management qualification – such as the Diploma of Leadership and Management BSB51918.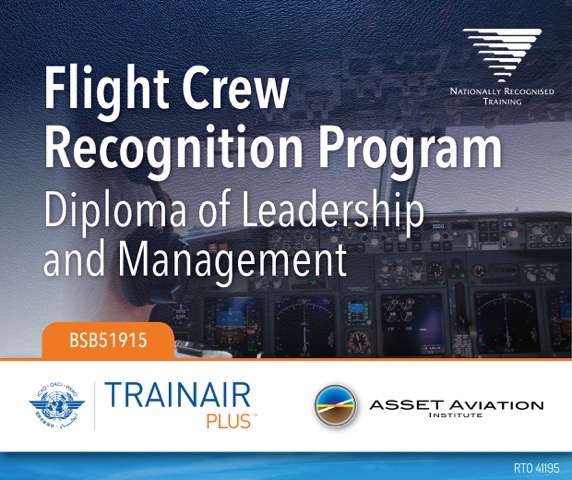 What's in it for me?
Remain competitive in a changing world
Enable access to higher education
Demonstrate carrier readiness
Reduce time and money required to get qualified
Remove the need to study something already learned
Future proof yourself against loss of medical
Introducing the Flight Crew Recognition Program from ASSET Aviation Institute
If you're like most pilots we meet, you already have the knowledge and skills you need to be awarded your Diploma of Leadership and Management. So it's simply a matter of getting that expertise formally recognised via the flight crew recognition program.
With just two intakes per year (March and August), the Flight Crew Recognition Program from ASSET Aviation Institute is the best way to validate your experience and fast track your credentials as a manager – in any sector.

RTO 41195
It's not a course.  It's a process.
We're not here to teach you what you already know – which is why you'll have no classes to attend or exams to worry about.  And because this isn't actually a course, you won't have to spend excessive time and money on getting this diploma.  Instead, you simply need to demonstrate your existing expertise in the following areas through our friendly 12-week online program.
1. Emotional intelligence
2. Managing risk
3. Managing the performance of people
4. Managing plans for operations
5. Leading and managing team effectiveness
6. Leading and managing effective workplace relationships
7. Undertaking project work 
8. Facilitating continuous improvement
9. Managing meeting
10. Managing quality customer service
11. Ensuring workplace safety
12. Managing personal work priorities and professional development
And if you're a little rusty in some areas? Not a problem.
We provide self-study resources to refresh your mind and boost your confidence. Plus, we're here to walk you through the process and answer any questions – every step of the way.

RTO 41195
Do you tick all the boxes?
To be eligible for our RPL process, you first need to meet the criteria for the Diploma of Leadership and Management – which means you must:
Be 18 years or older 
Have satisfactory English language skills
Have at least two years' relevant experience in an operational role

Then to qualify for RPL, you'll need to have experience as AT LEAST ONE of the following:
| ROLE | Minimum experience |
| --- | --- |
| A professional flight crew member (commercial IFR operations in a multi-crew aircraft) | 5 years' command experience |
| A chief pilot, head of flight operations, or chief flying instructor | 2 years' operational experience |
| A supervisor of flight operations (senior base pilot, assistant manager, deputy manager) | 3 years' operational experience |
| A flight instructor (grade 1) or Flight Examiner | 5 years' operational experience |
| A government inspector (Flight Operations or Flight Examiner) and team leader | 5 years' operational experience |

RTO 41195
A little more about ASSET Aviation Institute
Established in 2007, ASSET Aviation is a world-class training provider specialising in the aviation and aerospace sector. We're one of only 35 ICAO training centres in the world.
What's more, we're the only specialist training provider in Australia that can convert your aviation experience into formal qualifications. And because we're former pilots ourselves, our RPL process is tailored to the industry – and specific to your work experience.
All our trainers are also aviation experts with ICAO credentials.
What our students say
"It was disheartening to realise that other sectors do not value or even recognise a pilot's achievements."
I have spent the past 20 years working as a professional pilot. Like all pilots, I have worked hard, endured more examinations and tests than I care to remember, earned many aviation qualifications and logged years of operational flying experience.Although my pilot qualifications are highly valuable, outside of aviation they are not worth the paper they are written on. In fact, my leadership and management skills are not recognised at all. Considering the hard work and personal sacrifice made to reach my position as a Boeing 777 Captain, it was disheartening to realise that other sectors do not value or even recognise a pilots' achievements. It was such a long, hard road to get here, I feel the skills learned throughout this journey should be acknowledged. The Diploma in Leadership and Management I earned through ASSET Aviation Institute recognises my pilot skills and has finally provided me with a tangible qualification that is valid in any industry. It was a simple and easy process to be assessed. I look forward to completing more courses with ASSET Aviation Institute.

Boeing 777 Captain
Since we 'recognise' rather than teach, we don't have to cover the costs of classroom teachers, exams and learning materials.
And that means we've been able to cut the cost of gaining this qualification – by half.
So, for just $3,900 (rather than $7,800), you get:
Hand-held online support as you demonstrate your skills across 12 areas
Expert trainers and self-study resources at your disposal
All admin and paperwork managed on your behalf
Struggling with cash flow? Don't despair. We offer simple payment plans for those who qualify.

You've worked hard, you have a respected position in aviation.  It's time to have your skills converted to a formal management and leadership qualification.  If you are ready, secure your place.
Hurry! Places are limited.  Next intake closes 25 August 2019.
FAQ
Q: How do I qualify for the program?
A: There are strict pre-requisite requirements for entry to the flight crew recognition program. First, read the requirements in the pre-requisite tab above—if you meet one of the requirements you can apply for direct entry. If you don't, you can register your details with us, and we can arrange an interview with an assessor to see if you are eligible, or if you have any gaps.
Q: How much work do I need to do?
A: If you meet the minimum entry requirements, you have already done most of the work. All you need to do now is show us evidence of your life's work—and this usually takes about 2 hours per week for you to complete three tasks: gather your documents as supporting evidence, answer a few knowledge questions for that week's subject, and complete the evidence summary. Then repeat another 11 times.
Q: What evidence do you need to see?
A: When you enrol, you will be sent two books and 12 evidence planners: the books are the evidence guidelines and the management textbook. The evidence guidelines book contains detailed examples of the evidence we need to see for each unit of competency, and instructions on how to present the evidence. The 12 evidence planners (one for each unit) guide you through the process of gathering and submitting the evidence.
Q: What if I don't have evidence to prove I have skills?
A: There are many ways you can show us that you are competent to perform a skill. We list these in the evidence guidelines—and they include paperwork, answers to knowledge questions, and testimony from you—so there are three parts to the assessment and records are only one part. But if you don't have any paperwork or records to add to your evidence planner, we can offer you a face-to-face assessment interview at the Institute, or even at your place of work, where you can show us how you do tasks. Or, failing that, you can elect to do the formal assessment for that unit of competency.
Q: What if I can't answer a knowledge question in a particular unit?
A: We send you a textbook and each week you will get an email about that week's unit. The email offers a short refresher lesson (15 minutes) and then offers you a detailed study plan. The study plan shows you the pages in the textbook to read, it offers you some practice questions and answers, it offers you templates to use (if needed for that unit) and even offers you practice techniques you can use at work to hone your skills as a manager and leader. You receive more than enough support and additional study material, to help you refresh your memory about the subject, and guide you in the right direction to answer the questions.
Q: How many knowledge questions do I need to answer?
A: Each unit has its own set of knowledge questions. Some have more than others, but the average is five questions per unit. The questions ask you the underpinning knowledge about the unit.
Q: Why does it take 12 weeks?
A: The program is designed to allow you time to gather your evidence, answer the questions and write your summary for each unit. One unit per week allows time for you to continue flying and prepare your evidence portfolio.
Q: Can I finish earlier?
A: Yes. If you have your evidence for all 12 units, you can submit your portfolio immediately. The record so far is one week! Can you beat it?
Q: What if I need more time?
A: If you need more than a week to complete a unit, you can apply for an extension. The maximum extension available for the program is 12 months. But you can also take leave and then re-join for a later semester.
Q: Will I have a lecturer or someone to talk to if I get stuck?
A: Yes, an assessor will be assigned to you for the duration of the program. They will be able to receive your submissions, write feedback and answer any questions or concerns you may have.
Q: How much does it cost?
A: The 2018 course fee is $3900, all inclusve.