Leadership in Energy and Environmental Design and Operation of Airport Infrastructures

(ICAO TRAINAIR Plus)
This course is an ICAO professional development programme.
Ensure site development and management for sustainable airport function
Ensure indoor environmental qualities for the comfort of the occupants
Increase water efficiency within buildings and its distribution systems
Optimize the energy performance of building to protect atmosphere and environment
Ensure the efficient management of materials and resources to facilitate reduction of waste generated

If you have the following experience and skills, you may apply for this course.
University Degree or equivalent qualification and experince in one or more Civil Aviation field.

Good oral and written command of the language of instruction.
THIS COURSE IS AQF LEVEL 5
The purpose of the Diploma qualification type is to qualify individuals who apply integrated technical and theoretical concepts in a broad range of contexts to undertake advanced skilled or paraprofessional work and as a pathway for further learning. Diploma qualifications are located at level 5 of the Australian Qualifications Framework.
Our diploma qualifications are designed and accredited to enable graduates to demonstrate the learning outcomes expressed as knowledge, skills and the application of knowledge and skills specified in the level 5 criteria and the Diploma descriptor. Diploma qualifications allow pathways to higher education.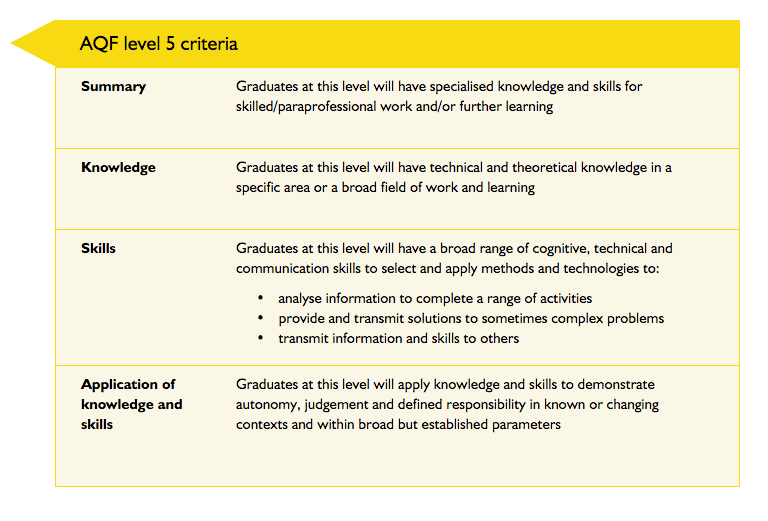 Classroom course fee
USD $2,000
Our Institute is located in the heart of beautiful Brisbane's CBD. All 2016 workshops are delivered at our training rooms at Level 5, 10 Market Street Brisbane, Australia.
It's important that you understand our policies, your rights and obligations.  Please download your student handbook.
0
million flights annually
How to apply
Ready to apply? Then let's get started.