Essential LMS Skills for aviation supervisors and leaders
Leadership, Management and Safety Assurance Skills: Principles and Practice


INTRODUCTION
There are three essential skills every aviation manager must have: leadership, management and safety assurance. We will teach you these essential skills which are relevant in 90% of all aviation supervisory jobs.
You will learn to lead and manage people and teams effectively: develop your staff, resolve conflict and build great teamwork.
You will learn to plan ahead, mitigate risk and reduce waste.
You will learn to assure safety performance.
You will learn to write about complex matters with clarity and care.
You will leave the Institute with fresh knowledge, skills and confidence to supervise, manage or lead any aviation team.
You will study in a workshop/holiday environment
The intensive Leadership, Management and Safety Assurance (LMS) program was developed with two goals: to deliver  you the most relevant and practical training in the most efficient and cost-effective way; and to do this in a fun, interactive environment. This training is highly practical und useful to both seasoned executives and newcomers.
CERTIFICATION
When you pass, you will be awarded a double Australian Diploma (DipLdrMgt, DipQA), and ICAO certificate (SMxP). You will leave the Institute as a leader in the field of safety management and the practical management of technical and administrative teams.
LEARNING OBJECTIVES
The objective of this course is to teach you the three essential skills relevant to any aviation supervisor, manager or leader:  the leadership of people, the management of systems and the assurance of safety in an aviation enterprise.  The objective is to teach these skills in the most efficient and cost-effective way.
We've build the course curriculum after researching the required job skills for safety and management positions from 100 job advertisements, across six sectors of the industry in 10 countries (Government authorities, air operators, maintenance providers, ANS, Manufacturers and aerodrome operators).
We then put the top 90% of required aviation leader and manager job skills into this course. This course will prepare you for the real-world.  The skills you learn will serve you well across a broad range of aviation safety and management jobs, globally.
You will practice what you learn through simulated on-the-job experiences using the competency-based method of teaching.
You will use real SMS IT tools (Bowtie XP), real management templates, job aids and trusted techniques, to ensure you are ready to work when you graduate.
You will learn from doing, not just listening to a PowerPoint presentation.
Just like an executive MBA, we have packed 12 months of study and practical application into this intensive one-month residential program.
There is no homework or assignments once you finish the course.
Everything is completed in five weeks.
If you need fast results, and don't have time to do a 12 month Master's or Graduate Diploma; if you cannot spend time at home on assignments or assessments; if you need real-world tools and solutions, and want to spend a little over a month in beautiful Brisbane with a fun instructional team; this intensive residential/social course is for you.
COURSE INFORMATION
Week 1: Safety Management Principles and Practice
Week 1 is a busy and active week.  You will use sophisticated IT tools and processes to effectively apply safety risk management and safety assurance procedures in the workplace.  From day one of this course, you will begin to design and use practical safety management techniques.  By the end of this week, you will feel a deep sense of satisfaction.  Your foundation skills will be strong and you will be ready to apply them.
Hazards Identification
Risk Assessment & Mitigation
Change Management
Safety Reports & Internal Investigations
Safety Auditing & Surveys
Safety Performance Monitoring
Weeks 2 and 3: Leading people and teams for high performance
Technical expertise in not enough; you must be able to manage people, processes and your time.  In weeks 2 and 3, we make you a better leader and manager.  Using your technical, career and life skills you will learn to apply them in the workplace, effectively!  Through group work, discussion and fun practical activities, learn or refresh your knowledge, about how to get the best performance from yourself and your team.
Develop and use emotional intelligence
Lead and manage effective workplace relationships
Communicate with influence
Manage people performance
Lead and manage team effectiveness
Week 4: Putting technical and theoretical skills together and making your safety management system effective
In week four you will work in the office simulator; the safety department of an air operator, or aerodrome, manufacturer or government authority.  Working with your classmates you will build a safety assurance program for your company.  You will practice your technical and management expertise as you work in groups to plan and control safety projects.  This week will see practical application of theory during site visits to industry departments where you will have the opportunity to see theory in action, ask questions and network with your Australian counterparts.  This is a very social week.
Manage an operational plan
Initiate and participate in and lead a quality audit
Write complex documents
Report on a quality audit
Week 5: Getting the work done in a diverse world; managing systems in aviation.
Great managers are great because they are effective.  In your last week, we combine all of your skills and guide you as you build on previous activities and practice the art of effective leadership and management.  This week will test your ability to actually apply the lessons learned in a simulated safety department solving real issues.  Your confidence builds, your skills are tuned and your judgement is accurate; you are ready for your final mastery test.  You will feel happiness and a sense of purpose, with a little sadness as the group breaks, and you head for home.
Implement diversity in the workplace
Facilitate continuous improvement
Manage meetings effectively
Undertake and lead a complex project (Final mastery test)
This course is for professionals in the aviation industry who work, or aspire to work, as a supervisor, manager or leader in any capacity of an aviation organisation.  The program is open to all members of the industry: state regulatory authority, air operator, approved maintenance organisation, design or manufacturing organisation, aerodrome operator, air traffic services provider or aviation training organisation.
Do you need to know how to implement and operate a Safety Management System (SMS) or a State Safety Program (SSP) in the aviation industry?
Do you need to know how to manage technical teams and administrative staff?
Do you need formal academic qualifications (Australian Diploma and ICAO)?
Do you like to be taught using real-life tools and interactive activities?
Do you want to earn your qualifications quickly and efficiently?
Finally, do you want to study in Australia, in a social and informal setting, and have fun while you learn?
If you answered yes to any of these questions, then this course is for you!
If you are an aviation industry professional, and you need a sabbatical, a training-holiday, a break from the office or need to update your qualifications, then please, register your interest.
Adults learn from doing. Why not learn in a relaxing and enjoyable environment? Don't forget to pack your swimsuit and we'll see you in Brisbane!
But please, you must be qualified to enter the course, so please read the pre-requisite requirements carefully. Classes are limited to 20 students.
Full-time intensive study: Includes five consecutive weeks of training. The classes commence at 0830 finishing at 1730 Monday to Friday.  Practical tutorial and lab work is available during the evenings from 1900 to 2100 Tuesday to Thursday.
The course is an intensive study program comprising of a total of 25 days of classroom training (180 hours) and 15 practical laboratory sessions (30 hours) conducted throughout the program.  Some sessions are conducted at night and on Saturdays.
Don't worry! We have built in social activities as part of your program.  After all, we are not savages.
There are strict prerequisite requirements for admission to the Intensive Residential Program for Essential LMS for aviation supervisors and leaders.
You must have three years of operational experience in any section of the aviation industry at a professional level.
You must successfully complete the entry course exam: ICAO Online Safety Management Training course prior to entry to the program.
You must have a technical qualification (for example Air Transport Pilot Licence, or Maintenance Engineer or Aircraft Mechanic Licence), or a Certificate (or higher) issued by a State Education Authority.
It is recommended that you are familiar with Spreadsheets and can draw graphs from data sets.
You must be prepared for intensive training.
| | Dates 2017 | Availability | Apply |
| --- | --- | --- | --- |
| | | | |
| | | | |
| | 20 November-23 December 2017 | Available | |
| | | | |
The course program fee includes lunch, morning and afternoon tea and evening dinner during tutorials plus all planned social activities (entry tickets and transfers): USD $15,000*
A $600 USD non-refundable deposit is required prior to admission to the program for access to the entrance exam.  Following successful completion of your entrance exam, a $1000 fully-refundable deposit is required for enrolment to the residential program.  The balance of payment ($14,400 USD) is required once your application has been accepted and you have been admitted to the program.
The cost of accommodation is not included as it may vary depending on your choice and standard.  Our administrative staff can assist you will all accomodation enquiries and reservations when you apply for enrolment.  The Institute has various options for your consideration ranging in price and standards.
Our Institute is located in the heart of Brisbane's beautiful CBD. All workshops are delivered in our training rooms located on Level 5, 10 Market Street Brisbane, Australia. The Institute is within walking distance of your four-star serviced apartment, cafes, public transport (buses, trains and city-cat ferry), the Queen street shopping mall and many tourist destination.
Brisbane is a beautiful city and a perfect destination to study and rest and play.
We don't want to spoil the surprise, but this site is where you can see some of the activities you can do during your intensive residential training program: http://www.queensland.com/
We have a carefully planned social program for you that will ensure you get the rest you need during the course as well show casing our countries natural beauty, cuisine, history, adventure, night life and of course, our Australian beer and wine!
Yes, all planned social activities are covered in your course fees.
ASSET Aviation Institute has several options for accommodation, but we recommend the Oaks-on-Felix serviced apartment.  This hotel complex is four-star and is walking distance (3 mins) from the Institute.  The rooms have a place to study and also a small kitchenette.  You can see the rooms here: http://www.minorhotels.com/en/oaks/oaks-felix
We can make the booking for you and get you a preferential rate.
The cost of accommodation is invoiced separately from the course fee.
You can choose any of Brisbane's hotels and we can assist with your booking.
Individuals and Travellers to Australia can find all information about visa and entry requirements via the Australian Government's site: www.border.gov.au/Trav
Please use the visa finder to check your entry requirements.
 Managing Aviation Safety Systems Program
+ Graduate Diploma
Dual Diploma and Graduate Certificate (DipLdrMgt, DipQA, CertSMxP)

BSB80215 Graduate Diploma of Strategic Leadership

Safety Department (Director or Head of Department)
General Manager (Safety)
Senior Administrator

Chief Executive of an Aviation enterprise
Executive
Director
THIS COURSE IS AQF LEVEL 5
The purpose of the Diploma qualification type is to qualify individuals who apply integrated technical and theoretical concepts in a broad range of contexts to undertake advanced skilled or paraprofessional work and as a pathway for further learning. Diploma qualifications are located at level 5 of the Australian Qualifications Framework.
Our diploma qualifications are designed and accredited to enable graduates to demonstrate the learning outcomes expressed as knowledge, skills and the application of knowledge and skills specified in the level 5 criteria and the Diploma descriptor. Diploma qualifications allow pathways to higher education.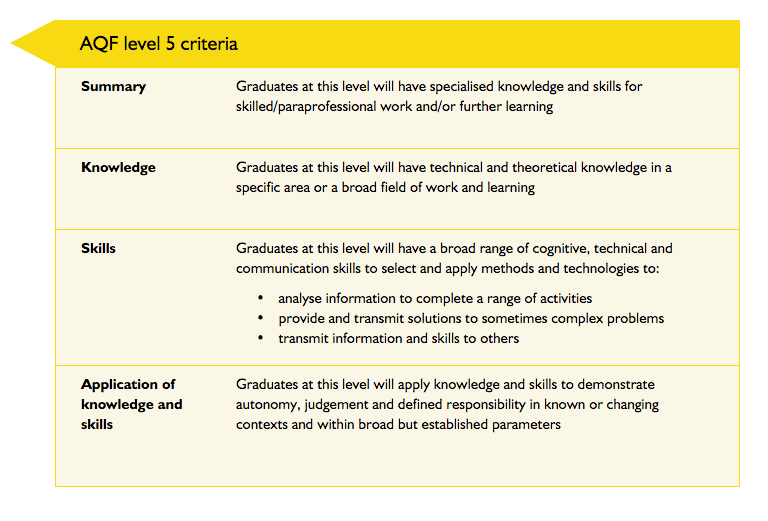 It's important that you understand our policies, your rights and obligations. Please download your student handbook.
Q: Can I do the course part-time or via correspondence?
A: No, the course is designed as an intense residential program.
Q: What do I need to bring to the course?
A: You will need to bring a laptop computer with word processor and spreadsheet software installed.
Q: What can I expect from the entrance exam?
A: The online entrance course and exam will ensure you have the elementary knowledge and skills required to pass the course.  The course includes five modules :
1) Safety Management Fundamentals;
2) Safety Management Provisions;
2A) Amendment 1 to Annex 19;
3A) State Safety Programme (SSP); and
3B) Safety Management Systems (SMS) Implementation.
There is an examination at the end of each module.  The passing mark is 80%.  If you fail, however, you may retake the examination up to a maximum of two additional attempts, provided the score on your first examination was at least 50%. If you fail the examination three times, you should consider whether you could pass the intensive residential course.
Q: What if I fail the residential course?
A: Our goal is to teach you so you are a competent specialist.  If you cannot demonstrate competence, you will be given all reasonable support to ensure that you meet the required standard.  If you cannot pass an assessment, you will be given a certificate of attainment, rather than a certificate of completion.  Please see our student policies for more information.
Q: The course seems very busy, will I have time off to rest?
A: Yes, we have designed the course to ensure you have a balance between work and rest.
Q: Is the course taught in any other languages?
A: No, the course is only taught in the English language.
Q: Can I bring my wife/husband or partner?
A: Yes, there is plenty to do for your travel companion: sightseeing, shopping, leisure activities, cultural programs, wine and dine, theatres and entertainment.  They are also welcome to join all social activities (however the additional expenses are not included in the course fee).
WHY ASSET AVIATION INSTITUTE
We offer the highest quality of training in Aviation Safety Management Systems and Leadership to both individuals and industry personnel. We will teach you how to manage safety, people and how to perform your tasks efficiently.   We will coach you along through the program as you develop your skills and ensure that you are competent and confident, before you leave the Institute. You will be ready to work.
Our professional instructors are carefully selected respected experts, with considerable experience and knowledge in their field. Our instructors are all international safety practitioners, managers and leaders with decades of operational experience for some of the world's largest organisations. But most importantly, our instructors are teachers: their role is to help you learn and build your competence. They do this by sharing with your their years of operational history and experience and offering a guiding hand to get you through the intensive program.
STATISTICAL RESULTS OF EDUCATION RESEARCH FROM ASSET CRU
0
%
Employed or in further study after training
0
%
Received job - related benefits from training
0
%
Received personal benefits from training
0
%
Recommended training to others